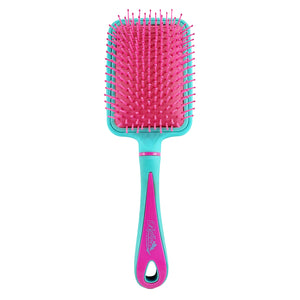 Square Cushioned Brush (BH300)
All purpose hair brush & detangler
For Wet & Dry Hair
Hair
Nice big brush to put my hair in place every time.
Nice brush
This a nice brush, especially for the low price. Most of the balls had fallen off the ends of the bristles of my Wet brush. I hadn't owned the Wet brush that long so I decided not to purchase another. I picked this one instead. This brush is holding up well and it's comfortable in my hand.
I always keep the brush in my purse
I absolutely love the hair brush. I keep it in my purse for when I go to work, let me tell you it is a life saver after a nine hour shift haha. It's super easy to hold and use!
Hairbrushes
I left one in the bag because I am going on a trip, so it will be easier to pack (I think) and I like how easy it is to discard hair from the brush.
Bigger then I thought
I was very excited to find this brush on here. I was looking for something like the brush I had. This is very similar but is a full size brush and I was looking for a smaller travel brush. I still the brush it gets the snarls out of my hair great and works like my old one. It is just bigger. If my hair was long it would probably be great that it is a full size brush. I would purchase again