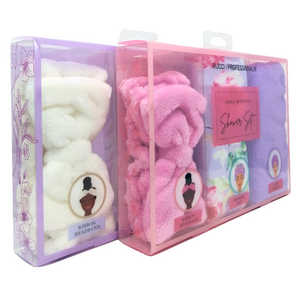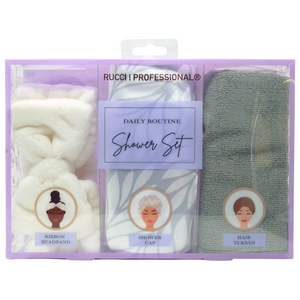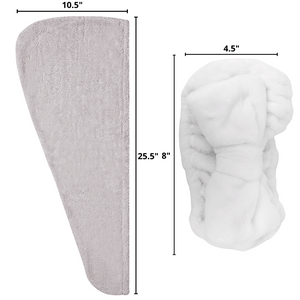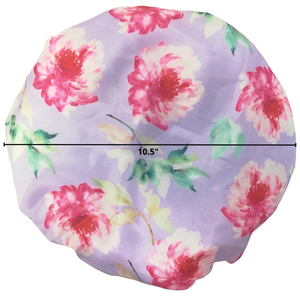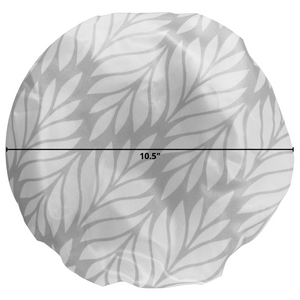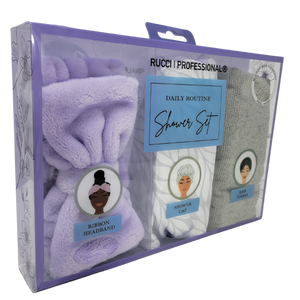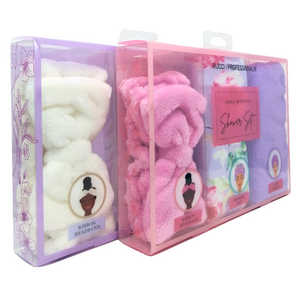 Headband
Durable Material: The headband is made of soft microfiber fleece material, which is soft & fluffy; friendly to skin.
Bow Tie Design: The bow knot shape on the top of the Microfiber Fleece Headband makes you extraordinary sweet & cute.
Good Elasticity: The Microfiber Fleece Bow Tie Headband is of good elasticity that can be stretched to 12 inch; easily to fit your head size.
Less Waste: The Microfiber Fleece Bow Tie Headband are washable & reusable; ultra absorbent to water.
Multifunctional Usage: The Microfiber Fleece Bow Tie Headband will be more convenient while washing face, doing makeup or any time you want to hold your hair.

Turban
Dry Faster: The Microfiber Fleece Turban is made from a revolutionary material that is extremely soft to the touch, super absorbent & fast drying. The advanced fabric absorbs more than 10 times its weight in water. This means that it'll work faster & more efficiently to dry you off & it'll stay fresh longer because it dries out quickly.
Soft & Ultra Lightweight: Although it feels thick and fluffy & is able to soak up loads of water, the Microfiber Fleece Turban is extremely lightweight when compared to other options. You can carry the turban everywhere you go. You'll like how it works, but you'll love how it feels.
Long Lasting: The amazing material makes the Microfiber Fleece Turban work great, but it is also highly durable. Use it day after day, and wash it hundreds of times without it wearing out or losing any ability. It will work and look like new for years to come.
Works for All Types of Hair: The Microfiber Fleece Turban is among the highest quality hair drying towels on the market. Being generous in size, the Microfiber Fleece Turban will never let you down; ideal for women, men and kids and great for all types of hair. No matter you look; we've got you covered.
Easy to Use: The unique twist and loop system makes the Microfiber Fleece Turban stay in place. It means that you can get dressed or wear makeup while drying hair without falling off the Microfiber Fleece Turban.

Shower Cap
Size: The size is adjustable. Under normal conditions, the diameter is 10.5 inches.
Double-Layer Material: The double-layer fabric design can wrap the hair well. After using the hair mask, it will not stain the sheets when sleeping.
Silk Material: The soft silk fabric is used to fit the skin. There will be no inappropriate places & the texture is soft enough to make it comfortable to use anyway.
Application: The Waterproof Shower Cap can be used to wrap the hair while sleeping, so that it will not be messy. It can also protect the hair from getting wet when taking a bath.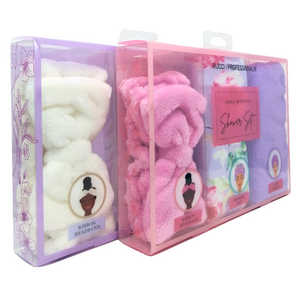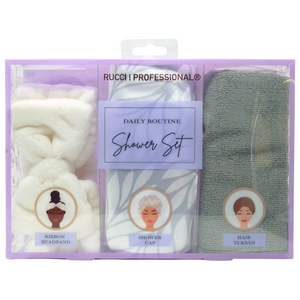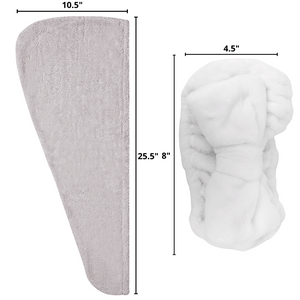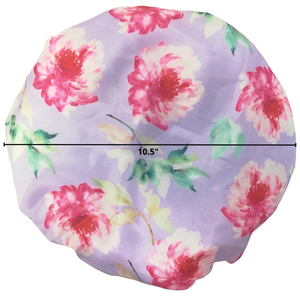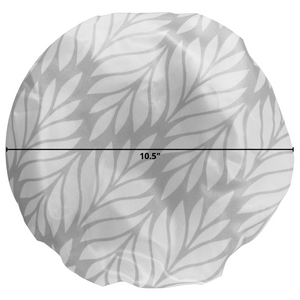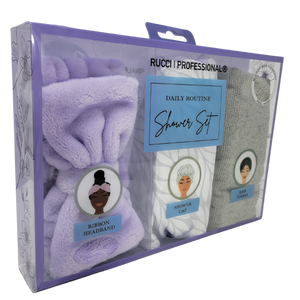 What I was hoping for
Love love love it. It's snug , soft and has a lot of space. Deff get it
Great buy
Its really nice and i pretty good size it can fit all of my braids
I like it a lot ,band a little too tight
I've needed a new bonnet for a while now and this one really does the trick ,I like it a lot .It's very smooth and soft and the satin on the inside feels very protective .Only thing that I'm not a fan of it the tightness of the band ,it's really tight .Not tight enough to give me a headache but tight enough to be a little uncomfortable if I don't adjust it properly .but after going through reviews for a ton of other bonnets on Amazon and seeing ones that bleed or are too small or too loose ,I'm glad I bought this one .the inconvenience with the band is minor. 9/10 for me
So soft, but a little tight
I love the size of it. It is super soft and satiny. My only issue with it, is the tightness. To combat that, I fold the fabric 2 to 3 times around the band. When the fabric is folded around the band, the tightness is much more bearable.