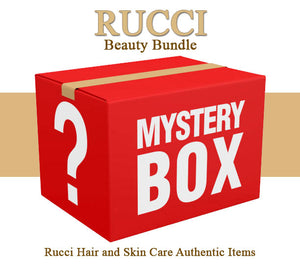 Rucci Professional Hair and Beauty Mystery Box (Medium)
Introducing the ultimate mystery box for all beauty and hair enthusiasts! This box is packed with an exciting array of brand-new beauty and hair products, including hair brushes, gel socks, hair products, and beauty products.

Each item has never been used, but due to some missing or damaged packaging, they didn't make it to store shelves. However, this does not affect their quality or effectiveness. In fact, this mystery box is a great opportunity to try out some amazing products that you might not have come across otherwise.

With a variety of items included, you can experiment with different beauty and hair routines to find what works best for you. Whether you're looking to achieve smooth and silky hair, soft and moisturized skin, or simply trying out new products, this mystery box has got you covered.

Treat yourself or someone special to this one-of-a-kind beauty and hair mystery box, and let the excitement begin!


Please note that all items included in the mystery box are intended for personal use only. Due to the nature of the mystery box, we do not accept returns or exchanges. However, we stand behind the quality of the products included and are confident that you will love them as much as we do.