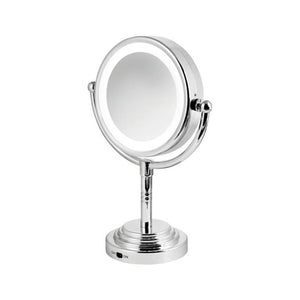 Rucci Double Sided LED Magnifying Chrome Finish Mirror (M978)
Double Sided Mirror
1X | 5X Beauty Magnification
Plastic Chrome Finish
Lighted (LED)
Dimensions: 11.5'' H x 6.5'' W x 2'' D
Mirror: 5'' Edge-to-edge Diameter
Weight: 1 lb

Battery Operated (Battery Not Included)
Take it with you on your travels as it is very compact!
ITEM CODE: M978
Beautifully Small
I just got this and LED is bright enough. Just fits my needs for applying makeup and stuff.
Thank you for your feedback.
Love this mirror!
Perfect mirror for our bathroom countertop. Definitely would buy again. A good value for the $
great mirror
I wanted a light up mirror that didn't take up a lot of space and did not want to attach it to the wall. this light up mirror is great. Very nice make up magnifying mirror.
Love it
Don't know why I didn't order one earlier. Now at this age, with weird hairs appearing overnight, poor eyesight, and with arthritis making it difficult to get my mascara on without blob it around, I NEED THIS!
Great makeup mirror.
This makeup mirror has good magnification. Great for doing different things. Applying makep, plucking eyebrows and small tedious things such as putting on eyeliner. This is a fairly heavy and sturdy mirror that seems to be for sitting on a vanity, dresser or dressing table.