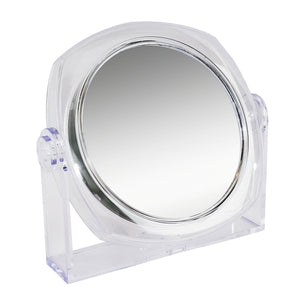 Rucci Clear Magnification Vanity Mirror (M821)
Shape : Round
Item Size : 7.25" x 1.5" x 8"H
Item Weight: 1.2 lb
Magnification: 10x / 1x
Color : Clear Finish
Materials : Acrylic
ITEM CODE: M821
Love the vanity mirror
Have used these for years and need to replace now and then.
Love it 100%
I really like the 2 different sides (the magnified and non magnified) and over i juts love this mirror.
I absolutely love this!
I need to first caveat with the fact that I'm not super into doing makeup and what not. The only thing I do in the morning is my eyebrows, but a dear friend of mine told me one day that one of my eyebrows turned out darker than the other and suggested I get one of these. Now that I'm two days into using this, I don't understand why I went without one in the first place. Worth the money! Worth the investment! Buy it now sistah!