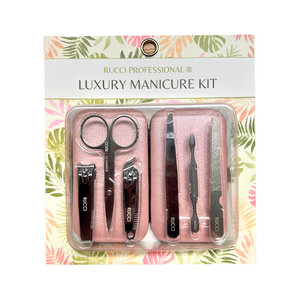 Luxury Manicure Kit (TW131)
Nail Clippers: These nail clippers have sharp cutting edges for easy & long-lasting use. Curved blades make for easy shaping of toenails & fingernails to ensure that nails will never look rough or ragged.

Scissors: Small cuticles can be difficult to trim. Use this precision pointed scissors to safely reach them.
Cuticle Clippers: These cuticle clippers have sharp edges for easy, long-lasting use. Soak nails in warm, soapy water. Trim away any cuticles as close to the skin as possible.
Tweezers: Eliminate the most stubborn nails with this angled tip tweezers. These are sharp, durable & easy to clean.
Cuticle Pusher / Under Nail Tool: Keep nail beds & under your nail tips tidy with this tool.
Nail File: Shape, smooth & finish nails with this durable metal file.
Travel Case: Stay organized & fashionable with the included compact clam shell case.
Everything you need
My nails typically look awful since I pick at them. having these tools close at hand helps me salvage the wreck I make of my hands. Kit is clean and pretty thorough with everything you'd need, though you do get what you pay for in terms of quality. But for travel or in a pinch, this will do the trick. Wish the inside of the case was completely covered.
A GREAT PRODUCT AT A GREAT PRICE!
Omg, I love this Mani/Pedi Set. The price is outrageously cheap for the quality I received. I wasn't expecting much. I've bought at this price range before, and the nail clippers did not even clip! But the clippers in this set is very sharp, as well as the little scissors. The box it comes in looks good, and everything you could possibly need in included. What a great deal!
Great customer service
I had one of the items break right away. Rated the item, then immediately the customer service responded. They said they would fix the issue. Way better than expected. Perfect. 5/5 stars I can understand some faulty products. But for them to not only reach out and help me, but to really go the extra mile, that means alot.