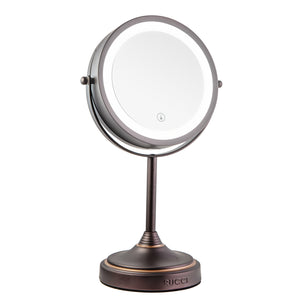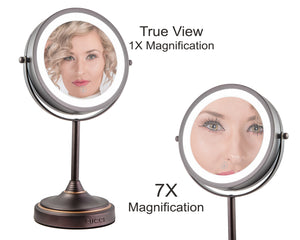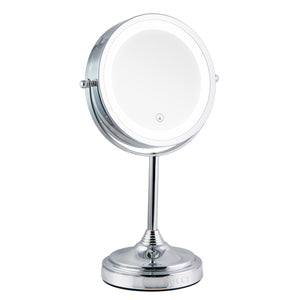 Lighted Table Top Makeup Vanity Mirror Oil-Rubbed Bronze Finish (M401)
This double-side 1X / 7X magnified tabletop mirror is a portable and elegant bathroom piece that is an excellent makeup accessory and is light enough to carry through your home. The 360-degree swivel design allows you to flip the mirror effortlessly to utilize no magnification or the 7X magnification option to make sure every detail of your hair and makeup are flawless. The oil-rubbed design give you an antique feel and works well with a classic room needing bronze accents. It has a soft-touch power that turns on the cool-tone LED lights (powered by 4 AA battery).
ITEM CODE: M401/OB (Bronze) / M401/PC (Chrome)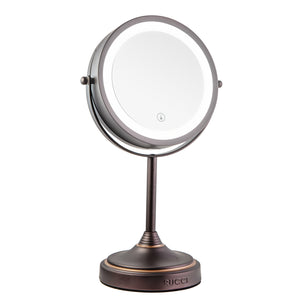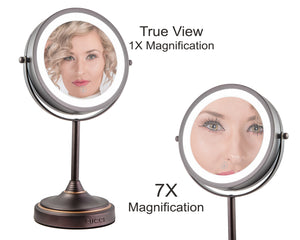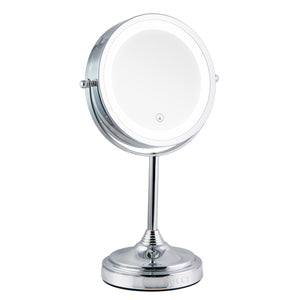 Great Make up Mirror
This mirror is so nice I bought 2, one for my bathroom and one for the guest bathroom in my vacation home.
Nice mirror
The magnification and lighting are great with this mirror. My old eyes can see for tweezing and make up application.
Sturdy mirror with good lighting.
I bought a similar mirror at a department store a couple of years ago at a much higher price tag. The light on that one stopped charging after a year. Hoping I have better luck with this one, which is a much better price. So far it is excellent.
So bright and chic!
Looks like a good quality mirror to begin with. The mirror is so bright I can believe I was doing my makeup in such a dark space before! Easy to clean and looks beautiful.
Good size, heavy base, lighting is perfect.
Wow! This mirror is great...better than the description. Perfect and I would do business with you anytime. Thank you for your prompt shipping and communication.