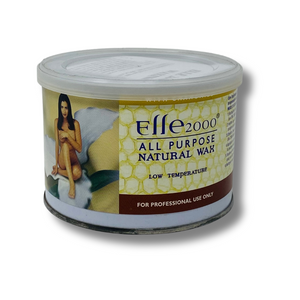 ELLE 2000 All Purpose Natural Wax With Chamomile 400g/14.1oz (W916)
Elle 2000 All Purpose Natural Wax With Chamomile 400g/14.1oz


Directions for Use:
1. Place can into a wax heating appliance, having first removed the plastic cover, then pull the metal lid.
2. Melt wax and maintain a temperature of 60
o
C.
3. Make sure that the area to be depilated is perfectly clean and dry.
4. Using wooden spatula apply a thin layer of wax following the direction of hair growth.
5. Press fabric strip onto the area to be depilated in the direction of hair growth, assuring adherence between the strip and wax.
6. Immediately, and in one swift motion, pull the lower end of strip in the opposite direction of hair growth while keeping your hand close to the skin as you pull.
7. To finish, clean waxed area with Elle 2000 post depilatory oil.
CAUTION: 
Elle 2000 Depilatory Products should not be used on people suffering from the following conditions:
   > cuts, sunburn, eczema, varicose vein, loose or damaged skin, weak scars, moles, warts, diabetes and circulatory problems
Never use Elle 2000 depilatory products immediately after bathing or showering.