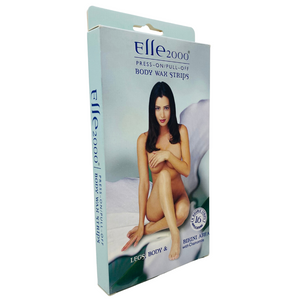 Elle 2000 8-Piece Press-on/Pull-off Body Wax Strips with Chamomile
Elle 2000 8-Piece Press-on/Pull-off Body Wax Strips with Chamomile
EUROPEAN SALON FORMULA
Elle 2000 Facial Wax Strips contain Chamomile extract which is known for its anti-inflammatory & soothing properties.
Ready to use pre-waxed strips are the most advanced cold wax depilatory method in removing unwanted hair from legs, body and delicate bikini area. The strips are safe and easy to use. Simply press on the wax strip to the area and pulled off, it lifts away-unwanted hair with the bulb of its root for longer lasting smoothness. Repeated use discourages new hair growth for up to 6 weeks, and after several treatments, re-growth often appears sparser and has a finer texture. With Elle 2000 hair remover wax strips, enjoy salon results at home without the mess!
THIS KIT CONTAINS:
BODY STRIPS: 8 pieces double sided press-on/pull-off wax strips.

POST DEPILATORY OIL: This unique oil cleans, soothes and softens skin after hair removal. 
IMPORTANT: PLEASE READ THE ENCLOSED DIRECTIONS AND CAUTIONS CAREFULLY BEFORE USE.
CAUTION:
Please make sure to do a patch test 24 hours before use.

Do not use this product if you are suffering from the following conditions: cuts, sunburn, eczema, varicose veins, loss or damaged skin, weak scars, moles, warts, diabetes and circulatory problems.

Keep out of reach of children.

Store wax in cool dry area, in horizontal position.