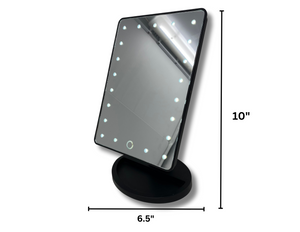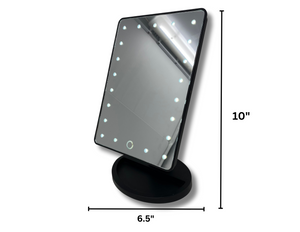 CLEARANCE BEBE Studio Pro LED Lighted Touch Mirror (6.5"L x 10"H)
This LED lighted tabletop mirror is an elegant bedroom or bathroom piece that is an excellent makeup accessory and is light enough to carry through your home.

CLEARANCE SALES DISCLAIMER: 
All Clearance items are sold as-is and are a final sale. There are no refunds, exchanges, or credits provided once the item is purchased. 

Items may be discolored, faded, or have worn marks/spots as it has been a showroom display model esp. for display units. 

Items have been inspected individually and were ensured to be in satisfactory working condition upon product listing (lights working, receiving power from power adapter, etc.). Most products (if product needs one) includes a generic power adapter. It will be indicated in the listing if power adapter/cord is not included.

CLEARANCE ITEMS = WHAT YOU SEE IS WHAT YOU GET