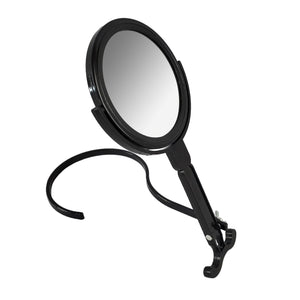 Rucci Portable Magnifying Neck Mirror (M626/B)
Keep your hands free and get a close-up view for performing multiple grooming tasks with the Rucci Neck Mirror. It has a sturdy plastic frame in a neutral black color and a 4.25" diameter viewing area. This hands-free neck mirror is lightweight and double-side providing up to a 5X magnification. It wraps around the neck allowing you to apply or touch up makeup, tweeze eyebrows or even shave from virtually anywhere. The portable design makes it an essential beauty aid at home, a dorm room and on the go.

Double-Sided Plastic Neck Mirror

5x / 1x Magnification [for 5X, ensure that mirror is 5-6" away from face]

Ideal for make-up, tweezing & all-purpose mirror

Tighten or loosen screw to desired viewing angle

Versatile - Lay on table as makeup vanity mirror

Shape : Round
Item Size : 6"x 0.25" x 11"H
Item Weight: 12 oz
Magnification: 5x/1x
Color : Piano Black Finish
Materials : Acrylic
ITEM CODE: M626/B
I love this mirror
I love this mirror. I have thinning hair and use this mirror to easily see back of my head so I can apply color powder to the areas of scalp. It is also useful if you color your own hair and for using curling irons and other styling tools for back of hair.
Rucci around the neck mirrors & keychain.
I got the mirrors today 12/21/20, plus the key chain. Thank you very much.
Love this mirror.
Have used round the neck mirrors for years. The last one I had was metal and lasted for years, plastic ones not so good. But this mirror is terrific. I you break the mirror you can get a replacement and there are no hinges to break down like round the neck mirrors.
Helps for coloring &/or cutting own hair...
I was looking for a mirror so I could ensure that coloring my hair with foils would be even on both sides and back of head were evenly placed and still allow both hands free to work. I also used it just to trim ends of hair. It works pretty well for both tasks.
I suppose I am not alone (or many are alone WITHOUT their stylist right now I should say) with many doing their hair at home with the COVID-19 quarantine across the world. This mirror I think would be helpful to many. I do think this mirror was greatly overpriced, but depending on how much you needed/wanted to fix your hair...many people would still pay it.
The around the neck mirror frees both hands to work with your own hair !
These mirrors are terrific. I have had one since the 50's and was thrilled to find them again. I have given 2 to friends who had no idea they existed. Both have Fibro and have difficulty with dexterity of the fingers. Please advertise these. There are many uses for men and women who will benefit by owning a round the neck mirror! Thank you.