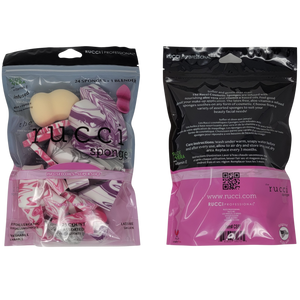 Rucci 24 Count Assorted Cosmetic Sponges with 1 Blender (Infused with Oils) [CS50]
These multi-shaped makeup sponges work with most kinds of cosmetics, foundation, BB cream, powder, concealer, isolation, liquid, etc.
Includes one blending sponge, dab it evenly to form a gorgeous makeup. Use it with different types of foundation, a CC cream, a tinted moisturizer, color corrector, and different types of concealer.

Infused with nourishing Aloe Vera, Vitamin C, and Vitamin E based oils.

Made from non-latex material, soft feeling, designated for sensitive people. They do not harm your skin and non-toxic.

Dab it gently in the makeup and bounce it along your skin for a natural, flawless look.
Wonderful gift
Awesome product. Packing well you can keep in pkg. Hold up well. Do not smell funny.
will be ordering these on a regular
love these things! this is my second order and I tend to go through sponges pretty quickly (fear of germs, don't judge). PRICE is perfect and I like the feel of these much better than a $20 beauty blender. they clean well, blend amazingly, and help pick up any extra I may have applied. works great dry with powders also!!!