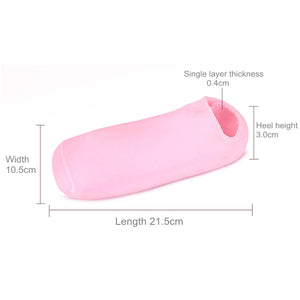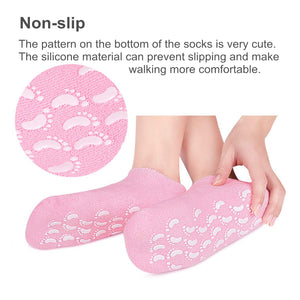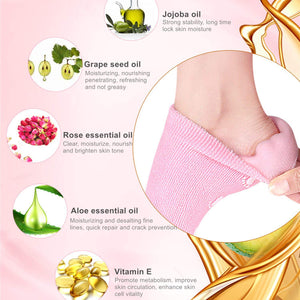 Moisturizing Aroma Soft Gel Socks Foot Anti-Slip (RL403)
It is made of cotton spandex yarn and soft gel to provide deep moisturizing care for your feet. Makes feet smooth and beautiful, delays aging and maintains health.

Contains 5 kinds of plant essential oils (rose essential oil, vitamin E, jojoba oil, grape seed oil, olive oil), safe, non-polluting, non-irritating odor, and provide you with pure and natural foot care.

With good flexibility and softness, socks keep the feet moisturized and comfortable to wear and suit the feet of most men and women.

You can enjoy a comfortable foot spa at home anytime, saving more money and time.

They are hand washable and reusable. You can use them at night before going to bed, and then apply foot cream, lotion, this kind of care will be better.
Relieve dry, irritated, cracked foot with RUCCI cotton blend moisturizing socks which give you spa-quality hydration that leaves your feet feeling amazing.
If your foot are suffering from dryness or cracking, it can be challenging to stay on your feet and accomplish your daily goals. Rucci Moisturizing Socks provide your feet with much-needed moisturizing and hydrating support that infuses even the driest, roughest foot with soothing relief.

Our moisturizing socks are made from a high-quality cotton blend fabric that adds comfortable compression and support to your feet. And when you pair these socks with lotions, moisturizers and serums they help rejuvenate and protect your skin. Sliding them over your feet at night will help heal your feet while you're sleeping so you wake up to softer, happier feet.

Each pack of RUCCI Moisturizing Socks contains 2 pairs of Socks for a total of 4 Socks. They are compatible with most serums, moisturizers and creams. One size of these stretchy socks will fit most people, men and women, comfortably.

Treat yourself to a foot spa-like treatment tonight when you wear RUCCI Moisturizing Socks to sleep in.




Foot Spa Treatment While You Sleep

 

contains 5 kinds of plant essential oils (rose oil, vitamin E, jojoba oil, grape seed oil, olive oil)

Apply your favorite moisturizer to your feet before bed

Slip on R Foot moisturizing socks

Wake up with soft, supple feet



Foot Spa Treatment While You Sleep

 

The delicate design of pedicure socks moisturizing can moisturize your entire foot

Hydrating and softening hard, dry, rough feet, calluses, heels, toes and cuticles

Reducing cracked fine lines through deep nourishment, making your feet smooth and beautiful, delaying aging and keeping healthy.


Great Value

 

Each pack contains two pairs of socks

They are washable and reusable comfortable wear

Unisex - the perfect way to soften foot for both men and women

 

Non-slip

 

The pattern on the bottom of the sock is lovely

Silicone material can prevent slipping

Make walking more comfortable

 

Textile fiber bonding technology

 

The silicone is bonded to the inner layer seamlessly

The bonded silica gel has strong elasticity

It will not fall off or break during wearing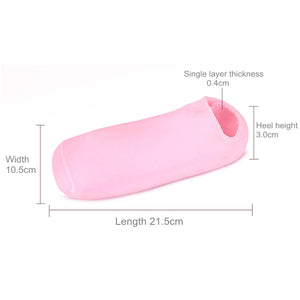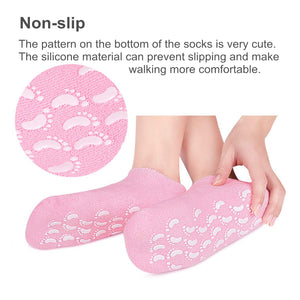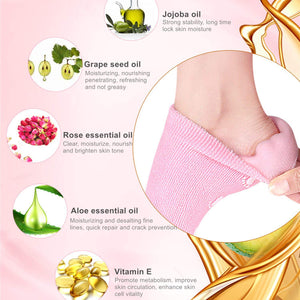 Cool on your feet
I'm in menopause and sometimes even wearing socks can bring on a hot flash. These make my feet feel cool, and I often forget I have them on.
Love these!
I have been nursing a pair my sister gave me quite some time ago so very pleased in finding you, your quick turn around and delivery And The Socks Are Wonderful!
A must have
Probably one of the best purchases I have EVER made!!! My heels were so dry and cracked, no matter what I did, how much moisturizer I used, or the type, nothing ever helped. I got these and didn't except much even though the reviews were good. The reviews are right! These are amazing! I will be ordering more. They are comfy to wear, they are cute colors and work amazing. I am so happy I came across them. I have hand washed them with no issues whatsoever!
Work Well . . . BUT Be Careful!
I bought these for me and my sister, and they work well to moisturize our heels. However, we also call them the "be careful or you might die" socks 🤣 Try not to wear them when you need to walk around your house, especially if you have tile or hardwood floors!
Totally useful. Just some suggestions
These are already helping my heels. Totally useful. Just some suggestions, soak your feet in hot water until your heels are soft, dry them off, put lotion on, then wear the socks for about 20 minutes. You won't believe the difference.