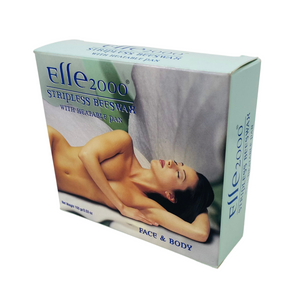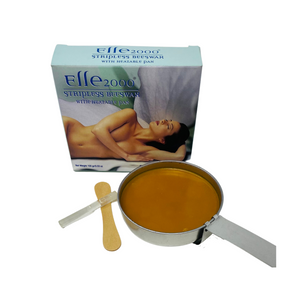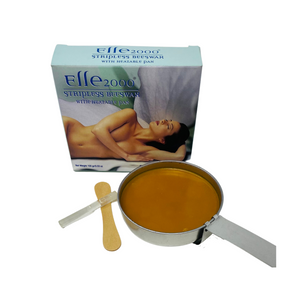 Elle 2000 Face & Body Gold Stripless Beeswax with Chamomile Extract 100g/3.53oz
Elle 2000 Face & Body Gold Stripless Beeswax with Chamomile Extract: Soothing & Anti-Inflammatory Protection 100g/3.53oz
This box contains:
100g/3.53oz Gold Beeswax in a pan with removable handle, wooden spatula, and finishing oil.
European Salon Formula
Wax can be heated on the kitchen stove.

Peel-off wax; no cloth strips needed.

No more stubble or nicks from razors.

Smooth and silky finish for up to six weeks.

Regrowth is finer, softer and sparser.

Regular waxing retards hair growth and makes its removal quicker and easier.

A professional quality wax for use in the privacy of your home.
CAUTION
Please make sure to do  a patch test 24 hours before use.

Do not use this product if you are suffering from the following conditions: cuts, sunburn, eczema, varicose veins, loose or damaged skin, weak scars, moles, warts, diabetes and circulatory problems.

Keep out of reach of children.