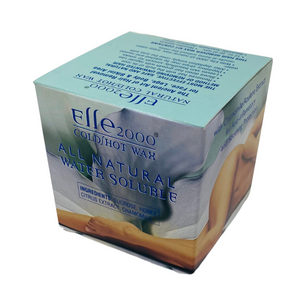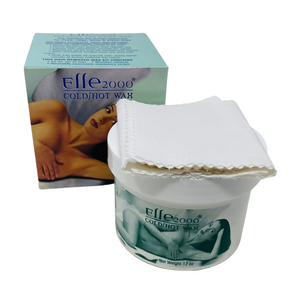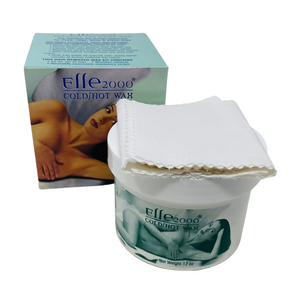 Elle 2000 Cold/Hot Wax All Natural Water Soluble with Chamomile Extract 6oz
Elle 2000 Cold/Hot Wax All Natural Water Soluble with Chamomile/Azulene Extract for Anti-inflammatory and Soothing Protection 6oz
The Ancient Art of Hair Removal for Face, Legs, Body & Bikini Area
THE MOST EFFECTIVE, SAFE AND NATURAL METHOD OF REMOVING UNWANTED HAIR
Removes hair with the bulb of its roots.
Slows down hair growth with regular use.
Leaves skin beautifully smooth for weeks.
Depilatory strips may be washed and reused.
After depilation simply rinse the area with water.
With Elle 2000 all natural wax, enjoy salon results at home without the mess.
This hair remover wax kit contains:
6oz jar of wax
wooden spatula
WAXING INSTRUCTIONS: 
1. For most effective results, hair should be at least 1/4" (1/2 cm) long.
2. Clean and dry the area of skin to be waxed thoroughly.
3. With the spatula, spread a thin layer of wax on a stretched and even skin area, in the direction of hair growth.
4. Press one of the strips over waxed area, assuring adherence between the strip and wax.
5. Immediately, and in one swift motion, pull the lower end of the strip in the opposite direction of hair growth, while keeping your hand close to the skin as you pull.
6. To finish, rinse waxed area with a wet towel.