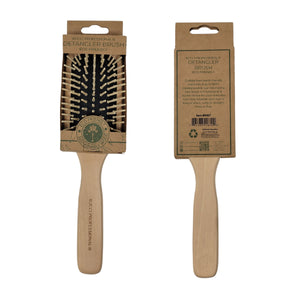 Eco-Friendly Detangler Hairbrush (H497)
• ECO FRIENDLY DESIGN: 100% sustainable hairbrush made with natural rubber and natural wood. Wooden pins will not damage the hair like a standard plastic pinned brush and will help create a sleek and shiny hair. Less snagging and hair breakage when you use a wooden or bamboo hair brushes.
• WOODEN BRISTLE BRUSH : Wooden bristles which help to naturally condition your hair, and evenly distribute your hair's natural oils. The bristles are also gentle and durable, massages scalp stimulate blood flow which results in healthy hair. Since they are wide, they are less to break the hair when combing, That prevents damage of scalp.
• HAIR COMBS: Combs for women, man, child. Tail comb can help you detangle, part, section, style, lift and more, suitable for wide range of hair styles and textures. In addition to hair tools, it can also be used as a hair brush cleaner, inserting the end of teasing comb object between the wooden bristle remove hair from your brush.
• VERSATILE BRUSH: Works on wet, dry, Long, short, thick, curly, and straight hair. Perfect gift for Valentines Day, Mother's Day, Thanksgiving, Christmas, Anniversary and Birthday to your girlfriend, wife, mom, sister and friends. NOTE: Paddle brush is designed to have one missing pin on the bottom of the cushion. This is to help with air circulation and is not a product defect.