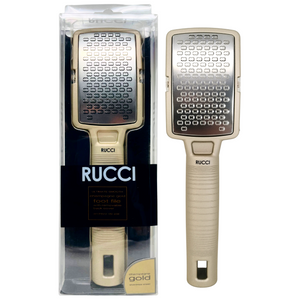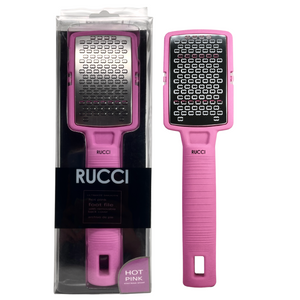 Rucci Foot File / Foot Rasp with Container / Catch (TW129)
This Rucci foot rasp / file is made of high-grade stainless steel and recyclable plastic, and has an ergonomic handle for easy user experience.

This foot file was designed for best customer convenience so we added a special container for dead skin which can be easily cleaned out after pedicure.

This is an effective tool for rejuvenating and cleansing the skin of the feet, heels, toes, and elbows, particularly for removing hard, cracked, or dry and dead skin.

This helps you relieve fatigue and promote relaxation; With regular use, your skin will become smooth and soft like after SPA treatments.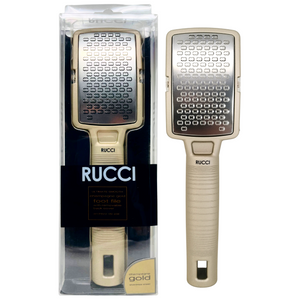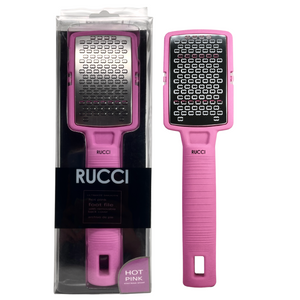 Foot File
Now i will have smooth feet
AMAZING PRODUCT ONLY 1 U NEED!!
AMAZING!!! seriously beyond impressed with this product. I've never had dry or cracked heels until recently and I've tried everything I could find to get rid of them! This is all u need!!! Just check out the before and after. I literally opened the box and did this in less than a minute ! I'll never use anything else! Even better than professional pedicures!!!
Sturdy and sharpe
This file is very good for the money. If you use it after a foot soak, be careful not to apply much pressure, it can be aggressive. It will cut deeper than you think and draw blood. I would be very careful if using on softer skin. Bottom line, it will remove calluses.
Great at home pedicure in between professional pedicures
I am into indoor cycling and outdoor running. This ends up with callouses on my feet. I am a guy who enjoys a pedicure with my daughter when she is in town. This callus remover helps smoothens out the roughness in between . Does a great job after a hot shower. Be careful, my first time I was over zealous and ended up with bloody heels as I scraped too hard.
Good but be careful!
This thing is awesome. But warning to all who use it-be VERY careful. Each hole in it is very sharp so it does the job of removing dead skin and touch heels but do not use it around your toes. I cut my foot on it and it bled forever and it hurt for days. It works well though so don't get me wrong. My heels have never been softer. Just be careful not to push too hard because it doesn't take long to remove dead skin.....